Many glaucoma patients believe that they are safe from glaucoma progression as long as their eye pressure is kept below 20mmHg. However, studies have shown that optic nerve damage can occur without the eye pressure exceeding the normal range.
Glaucoma Cannot be Diagnosed Based On Intraocular Pressure (IOP) Only
IOP is not the only nor definite indicator of glaucoma. Glaucoma may be associated with elevated IOP, but it can also be diagnosed irrespective of the IOP. Structural scans such as the Optical Coherence Tomography (OCT) and functional tests such as visual fields provide better and more useful information in determining glaucoma progression. A combination of these two approaches by an experienced doctor will help to evaluate progression and measure rates of change throughout all stages of the disease.

As Much As 40% of Primary Open-Angle Glaucoma (POAG) Cases Do Not Have High IOP
While the most important risk factor for POAG is elevated IOP, pressure is only one of many factors that define POAG. Glaucoma is a specific optic neuropathy characterized by optic nerve head cupping and usually associated with visual field loss. Because glaucoma can occur even without high IOP, direct examination of the optic nerve and visual field testing are more essential in making the diagnosis of glaucoma and determining its progression. The best time to diagnose and treat glaucoma is before the patient has developed any optic nerve damage or loss in visual field.

Lower IOP is Required for More Advanced Glaucoma and in Older Patients
The more advanced the glaucoma, the lower the IOP must be in order to protect whatever nerve tissue the patient has left. Pressure should not be left too high in advanced cases, as such patients stand to incur significant vision loss. Similarly, the older the patient, the lower the target IOP should be set. For those with very early damage, the target IOP should be about 20% below the baseline. Those with more advanced damage should have a target IOP about 40% below the baseline. A low IOP is associated with a slower progression of visual field loss.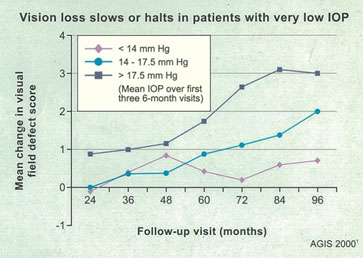 The Advanced Glaucoma Intervention Study (AGIS) conducted in 2000 demonstrated that low IOP is associated with reduced progression of visual field defect, supporting evidence from earlier studies of a protective role for low IOP in visual field deterioration. Glaucoma only continues to stabilize when the pressure is maintained at 12-14mmHg.
IOP fluctuation is also an independent predictor of glaucoma progression in those with a lower IOP baseline. If the pressure fluctuates greatly, it is very important to have regular reviews to monitor the pressure within the low pressure range.
The Early Manifest Glaucoma Trial (EMGT) conducted in 2002 also found that small reductions in IOP can make a difference. Specifically, every 1mm of IOP reduction was associated with a 10% reduction in risk of visual loss.
At Steve Seah Eye Center, we offer holistic and customized glaucoma treatment plans for each patient. Glaucoma patients at our clinic are closely observed so that treatments can be tailored for optimal outcomes.
Dr Steve Seah is well-recognized as an eye surgeon with in-depth experience in glaucoma management and treatment. Over the decades, he has successfully helped many patients suffering from mild to severe glaucoma to keep their condition under control. For appointments and enquiries, please call

6565 6888

today.